Fortress Power is excited to announce the release of our newest product – the eSpire 233 – a fully integrated, pre-configured battery storage solution for the Commercial and Industrial market.
La eSpire 233 utiliza la mejor química de baterías de fosfato de hierro y litio (LFP) de nivel 1 para el sector de la automoción para ofrecer 233 kWh de capacidad de la batería. El sistema integrado de gestión de baterías (BMS) de varios niveles supervisa continuamente el rendimiento, para permitir la optimización y el equilibrio del sistema. La refrigeración líquida avanzada ayuda a prolongar la vida útil de las baterías y garantiza un rendimiento óptimo incluso en los climas más duros.
El eSpire 233 tiene un diseño compacto y elegante con la flexibilidad de encajar en espacios interiores y exteriores, gracias a su carcasa con clasificación para exteriores. Con las certificaciones UL9540(pendiente) y UL9540A, y la supresión de incendios integrada, el eSpire 233 ofrece un funcionamiento seguro y tranquilidad.
El sistema de almacenamiento de energía eSpire 233 incluye inversor(es), armario de baterías, módulos de baterías, BMS, controlador local, sistema de refrigeración líquida, sistema de supresión de incendios, todo ello contenido en cajas clasificadas para exteriores. Esta solución llave en mano reduce el tiempo de instalación in situ y puede ampliarse fácilmente hasta 3,5 MWH (con hasta 15 unidades en paralelo).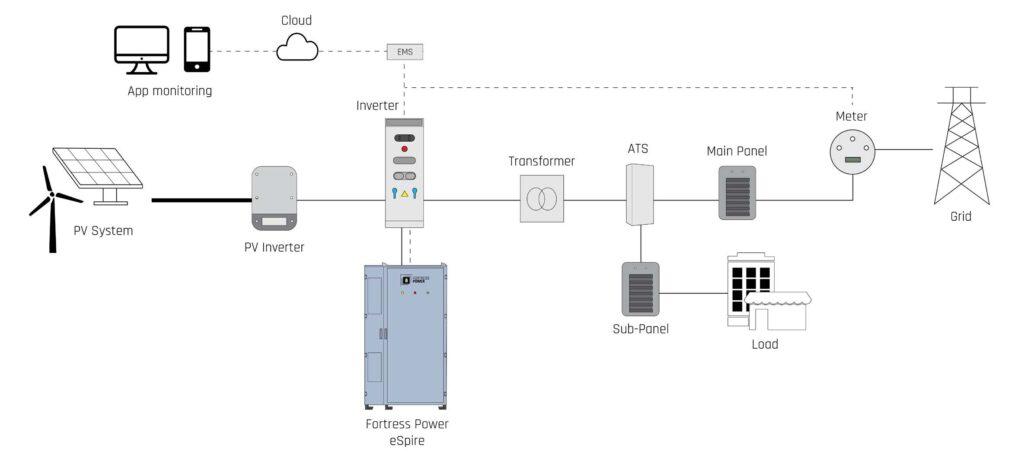 Ya sea que esté buscando reducir los picos para la gestión de la demanda, cambiar la carga para ahorrar en el tiempo de uso, el funcionamiento autónomo en el modo fuera de la red para el respaldo de energía, o simplemente para almacenar el exceso de energía solar, el eSpire 233 puede ayudarle Asegure su energía.
To learn more about the new eSpire 233 and other Fortress Power products, please contact your sales rep or email us at [email protected]