Fortress Power is excited to announce the release of our newest product – the eSpire 233 – a fully integrated, pre-configured battery storage solution for the Commercial and Industrial market.
The eSpire 233 uses best-in-class Tier 1 Automotive Lithium Iron Phosphate (LFP) battery chemistry to deliver 233 kWh of battery capacity.  The integrated multi-level Battery Management System (BMS) continuously monitors performance, to allow for system optimization and balancing. Advanced liquid cooling helps extend the lifespan of the batteries and ensures optimum performance even in the toughest of climates.
The eSpire 233 has a slick compact design with the flexibility to fit into indoor as well as outdoor spaces, thanks to the outdoor-rated enclosure. With UL9540(pending) and UL9540A certifications, and built-in fire suppression, the eSpire 233 offers safe operation and peace of mind.
The eSpire 233 Energy Storage System includes inverter(s), battery cabinet, battery modules, BMS, local controller, liquid cooling system, fire suppression system, all contained in outdoor rated enclosures. This turnkey solution reduces on-site installation time and can be easily scaled up to 3.5 MWH (with up to 15 units in parallel).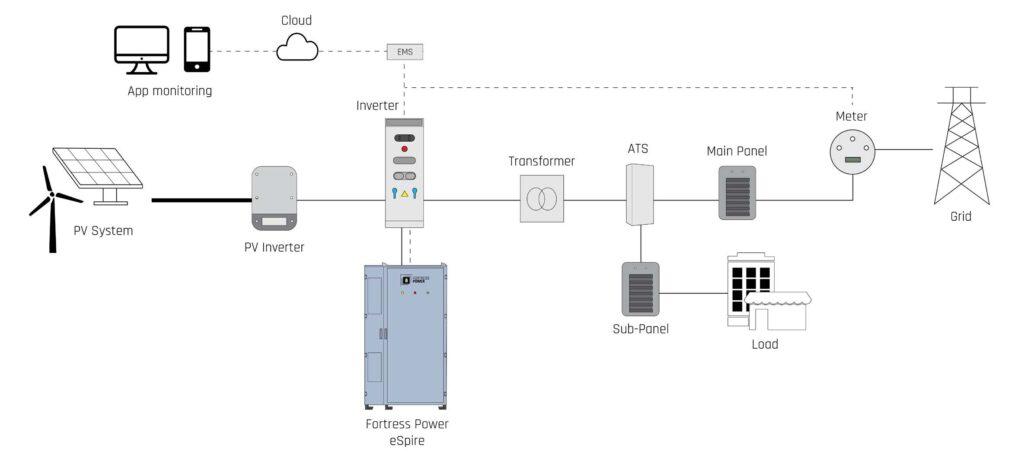 Whether you are looking for peak shaving for demand charge management, load shifting for time-of-use savings, standalone operation in off-grid mode for power backup, or just to store excess solar energy, the eSpire 233 can help you Secure Your Energy.
To learn more about the new eSpire 233 and other Fortress Power products, please contact your sales rep or email us at [email protected]