eSpire Mini Energy Storage System
Fully Integrated, Pre-configured Turnkey Solution
The eSpire Mini Energy storage system is a fully integrated, pre-configured turnkey solution for Large Residential and Light Commercial Projects (3Ph 208/480Vac @60Hz). The eSpire Mini has numerous applications such as Microgrid, backup, off-grid peak shaving, time of use, self supply, demand response and Virtual Power Plant (VPP). With AC and DC Coupling options, indoor and outdoor installation and Scalable capacity from 81-266kWh per unit, the eSpire Mini is perfect for your next project.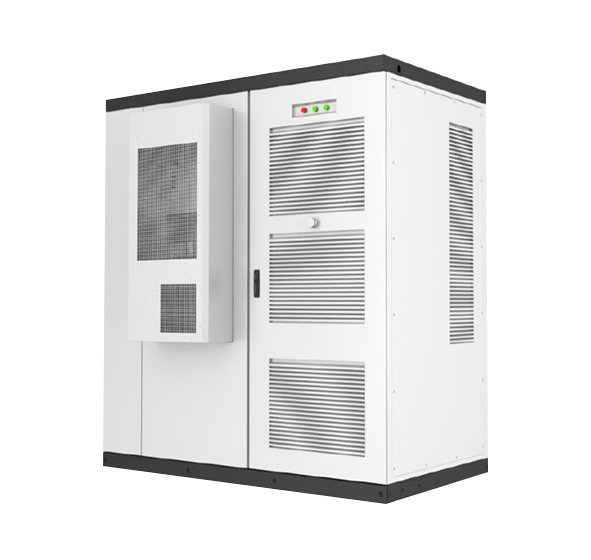 Turnkey Solution for Fast Install
Fully integrated, pre-configured package system reduces on-site installation time; includes inverter(s), battery trays, racks, BMS, Microgrid Controller, HVAC, fire suppression, islanding switch, and outdoor rated enclosure.
Built-in Microgrid Controls
Ability to integrate with solar, genset, wind, micro-turbines, utility, or other distributed energy resources.
Adaptive Intelligent EMS / Fleet Management
Intelligent software to reduce electricity cost, prepare for resiliency, and maximize return on investment. Remote operation and maintenance for multiple sites.
Safe Technology & Multi-level Protection
Tier 1 Lithium Iron Phosphate (LFP) chemistry for the highest level of safety, thermal stability, and reliability; An integrated, multi-level Battery Management System (BMS) monitors, optimizes, and balances the system.
Easy & Flexible to scale (Easy scalability)
This outdoor rated, modular solution can be expanded depending on the energy and power requirement at either 208Vac or 480Vac with a maximum of 2 units in parallel.
Excellent Local Support
Our US based technical support team can help you from project design to completion.

Battery Capacity

81/122/184 kWh
122/184/246 kWh
184/266 kWh
DC Data
Battery Chemistry
Lithium Iron Phosphate
Cell Life Cycle
80% Retention with 6,000 cycles @ 1C, 25oC
Cell Spec
3.2Vdc / 100Ah
Cell Configuration/Pack
2P16S
Pack Spec
51.2 V / 200 Ah
Pack Nominal Energy (kWh)
10.24 kWh
String Rack Configuration
1P8S/1P12S/2P9S
1P12S/2P9S
2P9S/2P13S
Rack Nominal Voltage
410/614/460 Vdc
614/460/614 Vdc
460/665 Vdc
Voltage Range
350 – 750 Vdc
BMS Communication Interface
RS485 via Serial, Ethernet via Cat 5 or Cat 6
BMS Communication Protocol
Modbus RTU, Modbus TCP
AC Data
PCS Rated AC Power
30 kW
60 kW
90 kW
Rated Grid Voltage
3Ph 480 Vac/208 1 Vac
3Ph 480 Vac/2082 Vac
3Ph 480 Vac/208 <strong>2) Vac</strong
Maximum Continuous Charge/Discharge Power
30 kW
60 kW
90 kW
Grid Voltage Range
± 15% / ± 10%
AC Rated Current
36.1 / 83.3 Amps
72.2 / 166.5 Amps
108.3 / 250 Amps
Output THDi
≤ 3%
Automatic Transfer Switch timing
20ms
Grid Frequency Range
50 Hz / 60 Hz ±2.5%
Grid Connected Power Factor
1 (leading) ~ 1 (lagging)
Wiring Configuration
3 Phase 4 Wire (3P4W Configuration)
PV Input (DC Coupled Only)
PV Input Power
45 kW
90 kW
135 kW
PV Input Voltage Range
200 – 810 Vdc
MPPT per charge controller
3 3 (3 x 35A)
General Data
Dimensions without Clearance (W x D x H)
82.7 x 51.18 x 97.05 in (2100 x 1300 x 2465 mm)
Weight of Whole System
Up to 8860 lbs
Enclosure Degree of Protection
NEMA 3R / IP54
Operating Temperature Range
-22 F to 131 F (-30 C to 55 C)
Relative Humidity
0 ~ 90% (No Condensing)
Max Altitude
10,000 ft (3,000 m)
Noise Level
70 dB
Cooling System
Forced Air Cooling
Communication Interface
RS485, Ethernet, HMI
Certificates
UL1973, UL9540(A), UL1741-SB, IEEE-1547, IEEE-519, UL9540 (CEC, SGIP pending)
1Only 30KW PCS configuration has 480/208 Vac output. 2 External Transformer is required for 208Vac step-down. 3 Each MPPT has 2 string inputs.