eSpire 280 Energy Storage System
Safe Technology & Multi-level Protection
The solution uses the best-in-class Tier 1 Lithium Iron Phosphate (LFP) chemistry for
the highest level of safety, thermal stability, and reliability; An integrated, multi-level
Battery Management System (BMS) monitors, optimizes, and balances the system.
Advanced Liquid Cooling for the Extended Battery Lifespan
The unique liquid cooling system optimizes the battery thermal performance by 3
times, which extends the battery lifespan and increases your investment.
Built-in Microgrid Controls with Adaptive EMS / Fleet Management
Ability to integrate with solar, genset, wind, micro-turbines, utility, or other distributed
energy resources. Intelligent software to reduce electricity cost, prepare for resiliency,
and maximize return on investment. Remote operation & maintenance.
Easy & Flexible to scale (Easy scalability)
This outdoor rated, modular solution can be expanded up to 4.2 MWH capacity
easily (Max. 15 unit in parallel).
Turnkey System for Fast Install
Fully integrated, pre-configured package system reduces on-site installation
time; includes inverter(s), battery trays, racks, BMS, microgrid Controller,
HVAC, fire suppression, and outdoor rated enclosure. Off-grid and Back up
package available.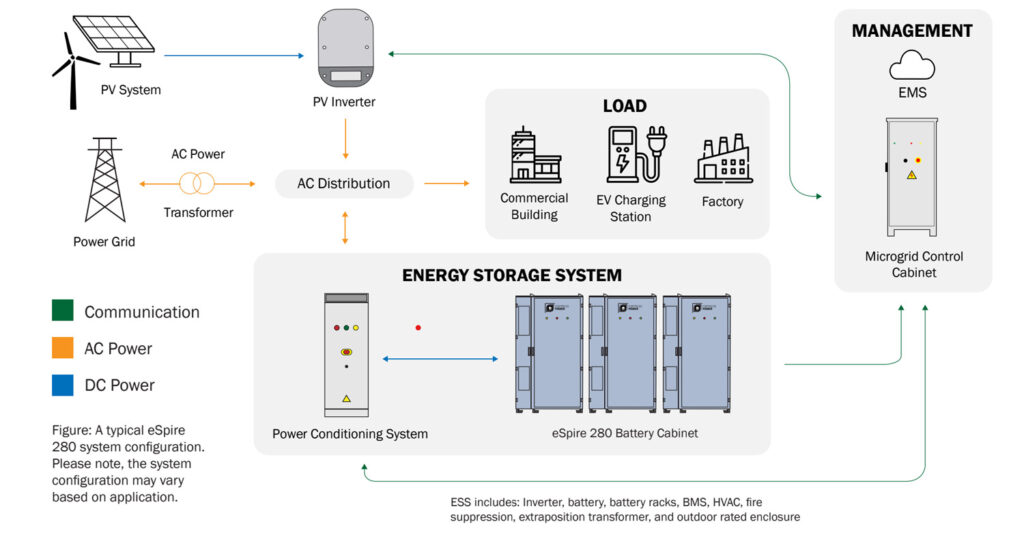 Specifications
Key Features
Downloads
Specifications
Battery Specification

Fortress Power Battery Module

eSpire 280

Chemistry

Lithium Iron Phosphate

Cell Type

Prismatic

Pack Configuration

1P6S

Number of Modules

6

Nominal Capacity

280 Ah

Nominal Energy

279.5 kWh

Nominal Voltage

998.4 Vdc

Operating Voltage Range

873.7 – 1123.2 Vdc

Maximum Continuous Charging/Discharging Current

140 Amps

Communication

Modbus TCP, CAN, Modbus RTU

Cycle Life @ 25C @ 70% Retention

8000 Cycles

DC DC Round Trip Efficiency

92% @ 0.5C, 25°C, 1 Cycle Per Day

Operating Temperature Range

Charging: 0-55°C & Discharging -20-55°C

Thermal Management System

Integrated Liquid Cooling System (HVAC)

Fire Suppression System

Fire Detector, Smoke Detector & Fire Extinguisher

IP Class

Type IP66, NEMA 3R

Battery Bank Scalability

Up to 15 (4.2 MWH)
PCS Specification

PCS Model

FP-PCS125HV

Rated AC Power

125 KVA/KW

Rated Grid Voltage

3Ph 480Vac + PE

Grid Voltage Range

422 to 528Vac (-12%, +10%) / (3Ph 208Vac) * + PE *

Rated Grid Frequency

60 Hz

Grid Frequency Range

59.3 to 60.5Hz, Adjustable

Rated AC Current

151 Amps

DC Voltage Range

750-1350Vdc

Rated Discharge / Charge Power

128KW/122KW

Max. Discharge/Charge Current

157Amps/151Amps

Current THD

<3%

Power Factor

-1 to 1, continuously adjustable

Peak Efficiency

98%

Standby Loss

<25W @ Cool Mode

Grid Power Factor

-1 (leading) to (Lagging), Continuously Adjustable

Wiring Configuration

3 Phase 4 Wire or 3 Phase 3 Wire (3P4W/3P3W Configuration)

Protection

DC Reverse Protection/OVP/UVP/OCP/DC Insulation Detection
* For 3Ph 208Vac + PE application, a step-down transformer is required.
Energy Management Software

Functional Operation

Real-time Monitoring, Adaptive Peak Shaving, Demand Response, Net Metering, VPP

Operation Mode

Back-up, Microgrid, Off-grid, Time of Use, Zero Export, VPP

Communication Interface

Modbus (TCP and RTU), TCP/IP, CANbus, BACnet, Dry Contactor, External APIs
System Specification

PCS Details

Keystone Microgrid Control Panel

Battery Details

Operating Temperature

-22 to 140°F, De-Rating >113°F (-30 to 60°C, De-Rating >45°C)

-22 to 131°F

(-30 to 55C)

-22 to 113°F

(-30 to 45°C)

Storage Temperature Range

-13 to 131°F

(-25 to 55°C)

-22 to 131°F

(-25 to 55C)

-20 to 140°F

(-40 to 60°C)

Dimensions (H*W*D)

78.74 x 23.62 x 19.685 in

(2000 x 600 x 500 mm)

77.56 x 35.43 x 36.06 in

(1990 x 900 x 916 mm)

89.76 x 51.18 x 51.18 in

(2280 x 1300 x 1300 mm)

Enclosure Rating

NEMA 3R / IP55

NEMA 3R / IP54

NEMA 4X / IP66

Relative Humidity

<95% No Condensing

<95% No Condensing

<95% No Condensing

Max Altitude

3000m, De-Rating > 2000m

3000m, De-Rating > 2000m

3000m, De-Rating > 2000m

Acoustic Noise

<70 dBA, Max 75dB

<70dB

<70dB, Max 80dB

Cooling System

Forced Air via Speed Control

Air Cool

Liquid Cooling Via HVAC

Net Weight

286.6Ibs (230 kg)

690 Ibs (313 kg)

6625 Ibs (3005 kg)

Operation Status indicators

Warning, Low Voltage & High Voltage

Lockage Enclosure

Padlockable Swing Handle

User Interface

LED, EPO, Ethernet & HMI via Web Access / EMS Web Portal

Communication Protocol

Ethernet/Modbus TCP

Certifications

UL1973, UL9540[A], UL1741-SB, IEEE-1547-2018, IEEE-519, FCC Part 15 Class A (UL9540 CEC, SGIP Pending)
Key Features
Downloads