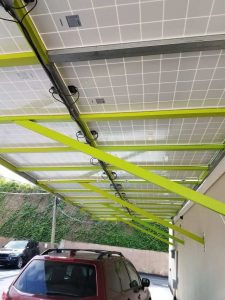 Armando & Maria, business owners who reside in Bayamon, PR know what it's like to live without power. After Hurricane Maria, the couple was without power for almost 4 months and were relying primarily on a diesel generator for electricity.
The couple decided to have an off-grid solar + storage system installed at the home office building of their business, BlueGreen Roofing Solutions, to protect against future grid failures and weather events. They enlisted local contractor TK Network & Electrical Solutions to install the system for them.
It was important to Armando & Maria to continue to operate their business and go on with their daily lives during a storm or hurricane. They are among a growing number of Puerto Ricans who went off the grid after Hurricane Maria and aren't looking back.
The 20.1kW off-grid system that was installed is comprised of 60 roof-mounted PV solar panels and features 4 of Fortress Power's eVault 16.5kWh batteries.
The system provides 24/7 support for their home office building and, if the local grid fails, it provides power to the couple's one-story house using a transfer switch.
In the future, the couple wants to have both their business and home completely off-grid. They plan to have two separate systems and will add two more Fortress eVault 18.5 units and 10 Kw of PV Panels.