Fortress Power announces the NEW – eVault Max 18.5kWh Lithium Iron Phosphate Battery – a breakthrough in technology that is redefining intelligent solar storage batteries! The eVault Max is the ultimate combination of design, functionality, and value for your solar storage needs.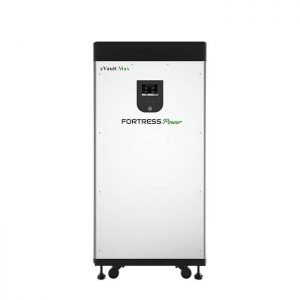 Southampton, Pennsylvania — Fortress Power today (Wednesday, June 9, 2021) announces its newest product, a Lithium Iron Phosphate battery – The eVault Max 18.5, packing the essential features of the flagship eVault battery into a more robust and intelligent design. The eVault Max is the largest single battery available on the market – providing a variable output up to 370kWh making it the ideal residential and commercial solution. The Battery Management System (BMS) has been improved to scale up to 20 units and provide closed-loop communication with approved inverters. Fortress Power engineers optimized the internal structure of the eVault Max battery to make installation and service simple, and intuitive for our installers. The eVault Max comes with a standard 10 Year Warranty with 6,000 life cycles (up to 16 years of life!)
For more information, please visit https://www.fortresspower.com/products/evault-max-18-5kwh-lifepo-battery/ or email our team at [email protected].
About Fortress Power
Fortress Power proudly services homes, businesses, utilities, tele-com and transportation companies worldwide. Our Pennsylvania-based team's passion for clean energy storage has earned us a place among the world's top energy storage battery manufacturers. Our logistics centers located across the country offer easy distribution to all of our major markets. Fortress Power's high-performance solar lithium battery storage products are designed, engineered and inventoried along with live technical support in the United States.