Smart FortressGO
Portable Energy Storage
We know our clients are renewable energy enthusiasts who don't like sitting still. That's why Fortress Power developed FortressGo, our portable, affordable energy storage battery. FortressGo lets you explore your world without losing energy or leaving behind a carbon footprint. But how does it work? FortressGo collects energy from your existing solar panels or on-grid network, breaks down and sets back up in minutes, and then discharges power whenever and wherever you need it.

Because our portable battery needs to move with you, Fortress Power guarantees our batteries are the industry's safest solutions. We use only lithium battery technology in our products. And, unlike traditional energy storage solutions, none of our FortressGo batteries contain toxic lead acid.

No matter where life takes you, Fortress Power supports your energy-independent lifestyle. All batteries in the FortressGo battery line even contain multiple outlets, so you can easily energize your appliances, devices, and more. And if you ever have a question, we stand by our products. Our customer service team and technicians are committed to clean living and are happy to help.

Our FortressGo portable energy storage solution is smart, powerful, and innovative. Just like you.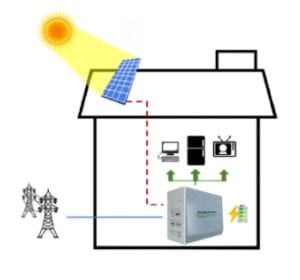 FortressGo can be connected to a Solar Panel easily. The solar panel collects the solar energy and converts it to electricity via a simple charge controller. Don't have a solar energy panel? No worries. You can still enjoy FortressGo's portable battery—the battery will simply pull energy from your on-grid electricity supplier.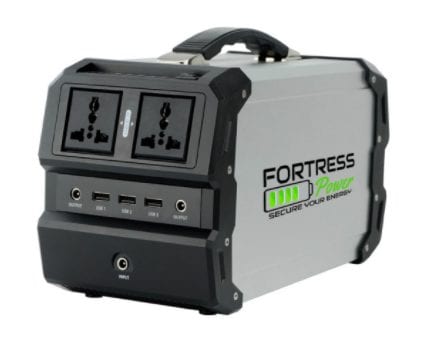 Size
11.9 x 5.3x7.2 Inches
Input
110/220V AC Charging
15V DC Charging
AC OUTPUT
2 x AC outputs 110V, 60 Hz or 220V, 50 Hz
DC OUTPUT
2 x DC outputs 9-12V/15A max
3 x USB 5V/2A
Our smallest, lightest battery available. Perfect for worldly travelers and occasional outdoor living, the Fortress Go-444 WH weighs only 11 pounds and disassembles and reassembles in minutes. Its convenient carrying handle makes transportation a snap. And with two appliance outlets and three USB ports, you'll never find yourself in the dark or disconnected.
Input
110/220V AC Charging
50-100V DC Charging
AC OUTPUT
2 x AC Output 110V, 60 Hz or 220V, 50 Hz
DC OUTPUT
1 x DC Output 12V/4A max
1 x USB 5V/1A • 1x USB 5V/2A
Transfer time
Less than 8 minutes