Ward's Power Tools, located in Montego Bay, Jamaica, is one of the largest retailers of generators and heavy-duty construction equipment on the island. They have used a solar + storage system to provide power to the store since 2015.
The solar + storage system at Ward's ran smoothly until recently, when the flooded lead-acid batteries that acted as storage and back-up were no longer maintaining the load throughout the night. The owner of the store, Howard Ward, needed a robust, compact and reliable replacement for the lead-acids.
Ward approached veteran solar installer Morris Hutchinson of Alternative Energy Plus for his input on the problem. Hutchinson recommended replacing the current storage solution with safe, affordable Fortress Power batteries. He knew that the Fortress batteries would take up less space, require little to no maintenance and keep the power running all day and night at the store.
The upgrade of Ward's system entailed replacing 24 x 6volts (820AH) flooded batteries with 3 of Fortress Power's eVault 16.5 batteries.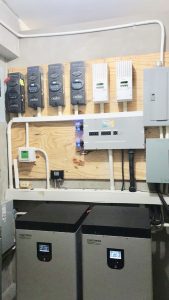 The system consists of:
-20.4kW hybrid Schneider inverters
– 14kW of grid-tied Fronius inverters (20kW array total) AC coupled to the Schneider inverters
– 49.5kW of storage (3 x eVault 16.5)
– 20.6kW of PV array that is DC coupled using charge controllers
The energy usage of the building is 90-150kWh per day which is covered entirely by the solar power system.
Grid usage is reduced to rental of the meter from the utility.