Barry Moore, president of Fortress Power, recently traveled to Washington, D.C. with members of the Pennsylvania Conservative Energy Forum (PennCEF) to discuss clean energy initiatives with top policymakers.
Business owners and industry leaders from over twenty states descended upon the nation's capital and met with elected officials from their respective states. Moore met one-on-one with Senators and representatives from Pennsylvania to brief them on current regulations in the industry and push for the increased use of wind, solar and other clean and renewable energy sources.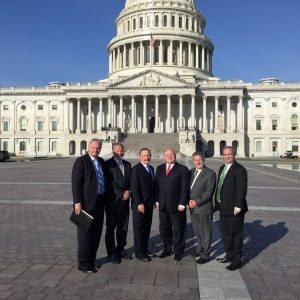 A life-long environmentalist, Moore emphasized to policymakers how a greater reliance on renewable energy sources is critical to our country's future. Clean energy, which is powered by limitless sources of free renewable energy, is vitally important to America's national security. Former Secretary of the Navy John Lehman, who is on the board of PennCEF, is a strong proponent of renewable energy. During his involvement with the 9/11 commission, Secretary Lehman saw first-hand the necessity for reducing our reliance on fossil fuels sourced primarily in Middle Eastern countries. Access to affordable, reliable energy is a huge part of national security, and clean energy makes our electric grid more reliable and secure.
In addition to the benefits to national security, Moore stressed to officials in the House and Senate how renewable energy has the potential to create high-paying jobs and grow our economy. Work in the industry includes a wide range of jobs including solar panel and wind turbine installation, developing electric vehicles and more.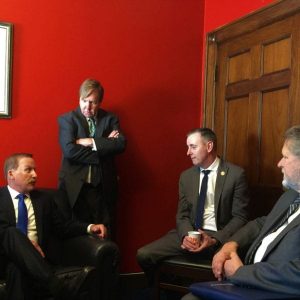 Lastly, Moore had the opportunity to discuss the importance of storage solutions for clean energy. "I found that many of the people I spoke with understood the value of renewable energy but did not understand the importance of safe and reliable storage solutions." The shift away from fossil fuels and toward clean, renewable sources requires updating our electric grid, including the ability to store energy for later use. Energy storage systems make it easier to use renewable energy in the home and on the power grid by balancing out the effects of a cloudy day or the wind dying down. Storage systems, such as the lithium ferro phosphate batteries manufactured by Fortress Power, capture excess solar energy and make it available around the clock.