The grid can only produce a finite amount of power, but demand continues to increase. In California, utilities have rolling blackouts because they just don't have enough power to support the number of households on the grid. States in the Eastern US could soon run into the same problem.
There are two solutions. One is to build or expand energy plants, which is expensive and harsh on the environment. Fortress Power supports a more sustainable approach to ensuring grid stability with the ConnectedSolutions program. Instead of building power plants, residential homes are turned into sources of energy for the utility.
And utilities will pay homeowners who enroll and store solar energy. Here are the details.
How ConnectedSolutions Works
Customers of Eversource, National Grid, and Cape Light Compact in Massachusetts, Rhode Island, and Connecticut can enroll their Fortress Power battery storage system integrated with a Sol-Ark inverter in ConnectedSolutions.
During a peak demand event, which is typically from 2 pm – 7 pm from June to September, the utility will reduce peak energy use by performing what is called demand response. Essentially, the utility will use energy stored in your Fortress Power battery and pay you a fixed rate for the energy used.
Peak demand events happen 30-60 times per year and never last for more than three hours. Your battery will then recharge after the event ends. The entire process is automated and requires no action by the homeowner.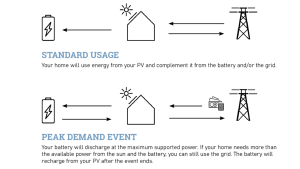 What Can You Earn?

Because the Fortress Power eVault Max is the largest residential battery on the market, it supports the greatest earning potential. In fact, owners of an eVault Max can earn up to $1,375 per year with ConnectedSolutions!
Incentives are paid at the end of each season based on actual performance. For example, your battery must have energy stored to participate, and you must have internet access to connect with the utility.
Keep in mind that the federal solar tax credit, or investment tax credit, allows you to deduct 26 percent of the cost of installing a solar energy system. When you factor in the amount of money you can earn through ConnectedSolutions, your Fortress Power eVault Max could very well pay for itself in a short period of time.
A Cleaner, More Sustainable Energy Model

ConnectedSolutions allows utilities to grow their infrastructure without building plants. They simply use solar energy stored in Fortress Power batteries in residential homes, which serve as virtual power plants.
By storing clean solar energy and reducing peak energy use, you reduce air pollution and reduce the cost of electricity while helping the utility become more stable. You also avoid the high costs, greenhouse gases, carbon emissions, and environmental disruption that would come with the construction of additional power plants.
In a nutshell, ConnectedSolutions is better for the homeowner, better for the utility, and better for the environment. And you'll be paid for the energy you store and provide to the grid. It's a win-win situation for both sides and for the environment.
How to Enroll in ConnectedSolutions

Visit the ConnectedSolutions page on the Fortress Power website for more information on how the program works and who is eligible. You can then download the application form, which is typically submitted by your battery installer or vendor on your behalf.
You can also scroll to the bottom of the page and send a request to enroll. At that point, we'll contact your installer or vendor to let them know you're interested in ConnectedSolutions.
If you believe in all the benefits of clean energy and want to get paid for the energy you store, find out more about ConnectedSolutions today!