Program for Fortress Power...
Join the ConnectedSolutions program
and get paid to keep the grid more stable
Eversource, National Grid or Cape Light Compact program customer, can now enroll their Fortress Power battery paired with a Sol-Ark inverter in ConnectedSolutions!
This offer with ConnectedSolutions uses your Sol-Ark & Fortress Power battery to make the grid more sustainable, reducing peak energy use which reduces air pollution and lowers the cost of electricity.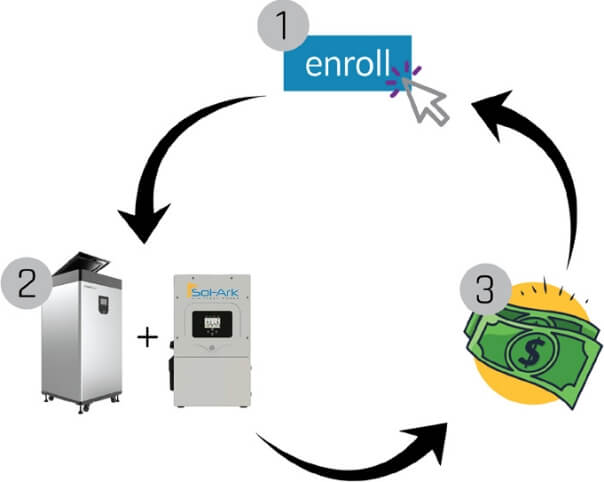 Earn up to $1,375 per year with your eVault Max solution!

Your home will use energy from your PV and complement it from the battery and/or the grid.

Your battery will discharge at the maximum supported power. If your home needs more than the available power from the sun and the battery, you can still use the grid. The battery will recharge from your PV after the event ends.
( June 1 – September 30 )
| | National Grid | Eversource | Lead Acid |
| --- | --- | --- | --- |
| Massachusetts | $275/kW | $225/kW | $275/kW |
| Connecticut | n/a | $225/kW | n/a |
| Rhode Island | $400/kW | n/a | n/a |
( December 1 – March 31 )
| | National Grid | National Grid | National Grid |
| --- | --- | --- | --- |
| Massachusetts | $50/kW | $50/kW | $50/kW |
| Connecticut | n/a | $50/kW | n/a |
| Rhode Island | n/a | n/a | n/a |
Frequently Asked Questions