By Rob Senior
Fortress Power is proud to partner with Footprint Project in contributing to the Lahaina relief efforts.
In early August, a series of wildfires tore through the island of Maui, the second-largest island of the state of Hawaii. The fires, attributed to gusty conditions resulting from Hurricane Dora, killed at least 98 people in the town of Lahaina and caused upwards of $5.5 billion in damages.
Ongoing recovery efforts in the area led Fortress Power to collaborate with Footprint Project in the deployment of solar microgrids in Maui. Fortress has donated five eVault Max 18.5 kWh batteries to Footprint Project, a nonprofit organization that operates by the slogan of "Build Back Greener." Footprint accomplishes this mission by providing sustainable energy to communities in crisis.
Nāpili Noho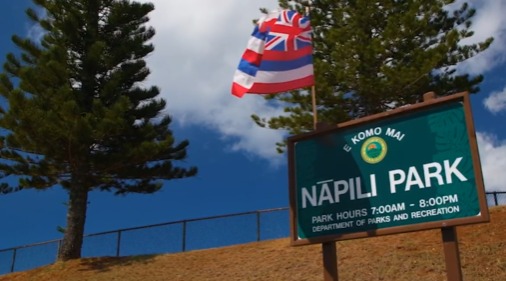 Due to location, climate, and numerous other factors, getting utility service on different Hawaiian islands is already challenging. Obviously, the wildfires exacerbated the situation. With road closures, no electricity, and very limited means of communication, the community faced critical shortages in the areas of food, water, fuel, medical assistance, and essential supplies.
Enter Kaipo Kekona, president of the Hawai'i Farmers Union. Kekona spearheaded the efforts to build Nāpili Noho, a distribution resource center and a temporary community and education resource center.
"It's amazing," said Makai Laurin, an electrical journeyman who installed the Fortress batteries on site at Nāpili Noho. Laurin is a native of Maui. "There's a full grocery store. There's an area for pets, a place with clothing. It's like shopping in a full stores, with aisles for everything. "It's a beautiful story, how this community came together in a time of crisis. It's what saved our island."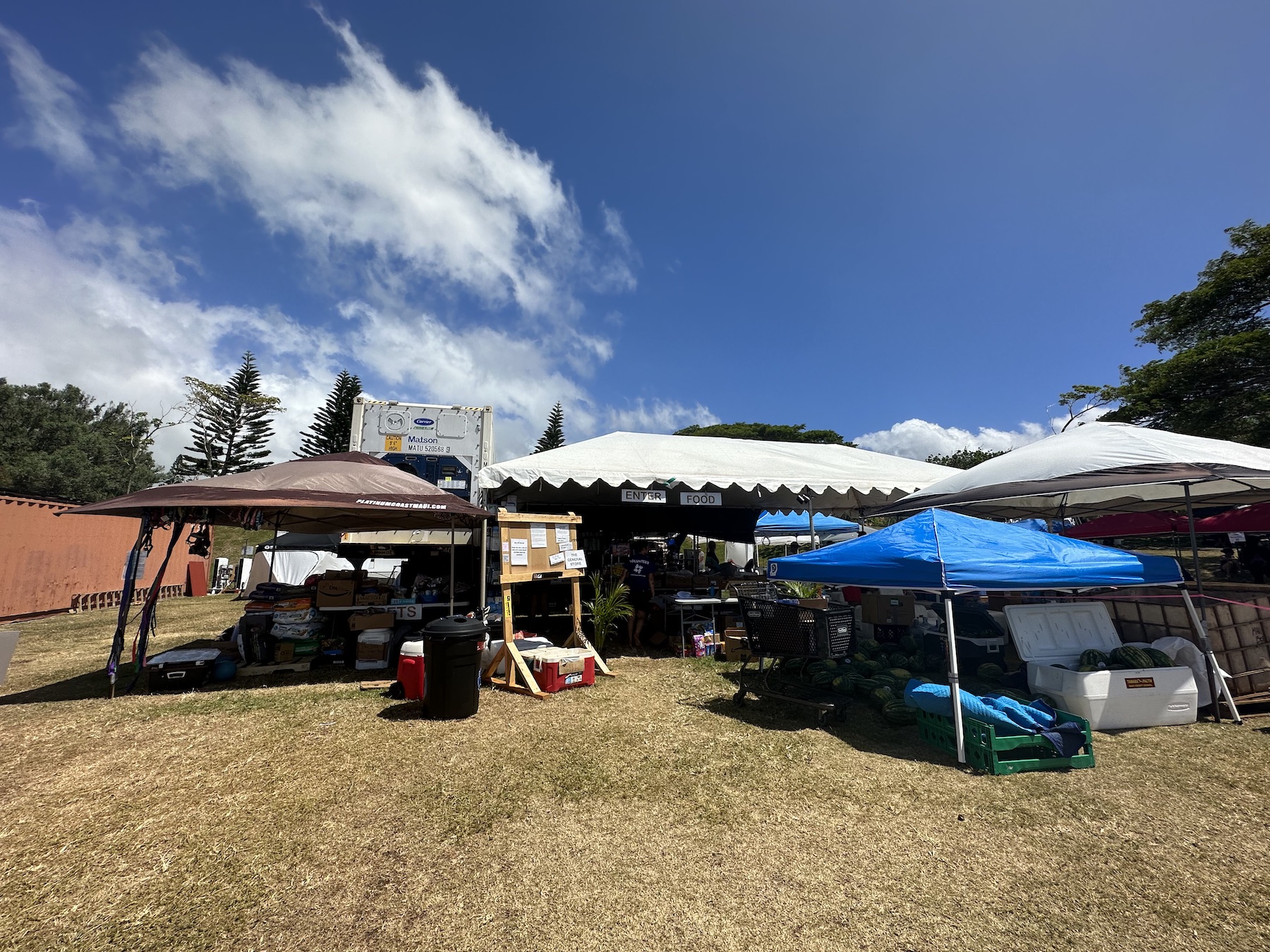 Fortress Power's contribution to Lahaina's Nāpili Noho
Nāpili Noho is a private endeavor, operation of the donations and other forms of generosity displayed by people helping people. That might be the most encouraging aspect of the whole project – the impressive variety of goods, services, and other resources available at a site that was the brainchild of one man.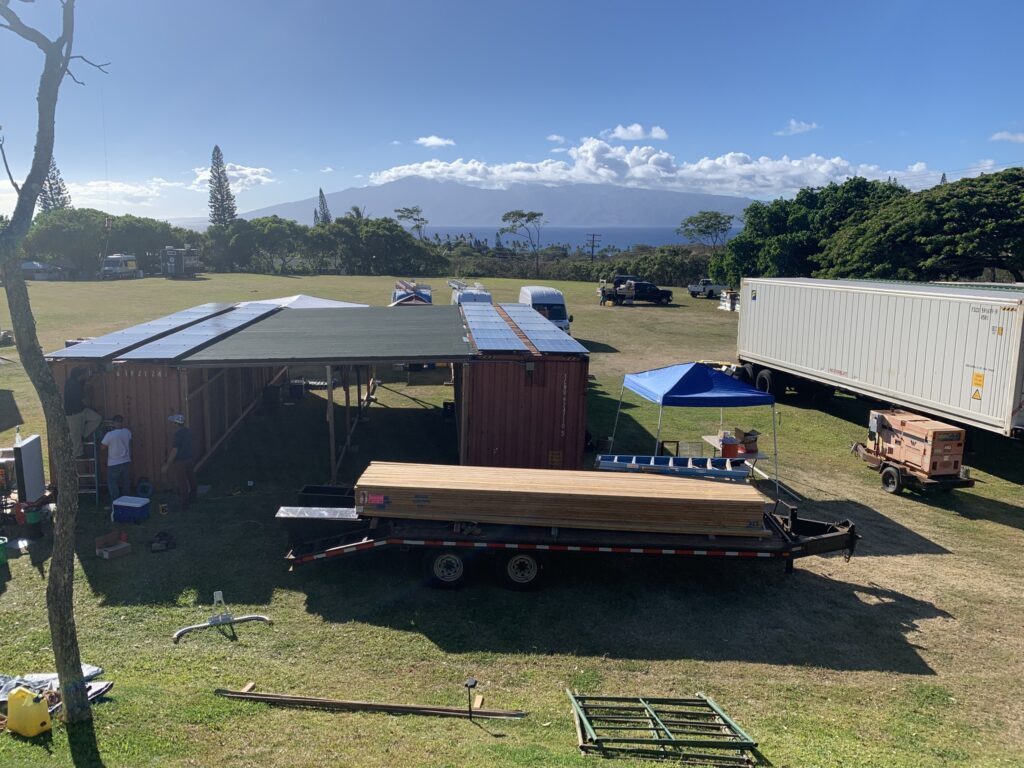 "They have a 40-foot refrigeration container, filled with vegetables, produce, fresh fruit, even some meat products," explained Laurin. "This way they can give the people recovering from this disaster some real fresh food, not just canned goods and non-perishables. That's important because we're looking for a long-term fix here."
The problem, of course, was the generator needed to run a 40-foot refrigeration unit in addition to any other power needed at the site. It became clear that over time, the cost would become prohibitive for Kekona's operation.
"They're running through gallons and gallons of diesel each day," said Laurin. "They're spending hundreds of dollars a day – maybe more – just to fuel that generator." But thanks to the donations of the five eVault Max batteries from Fortress Power, the generators are now a thing of the past as Nāpili Noho runs on an impressive solar array. Laurin partnered with a couple of fellow electricians in the installation. In fact, he recalls that the day everything was connected was the one-month mark since the wildfires occurred.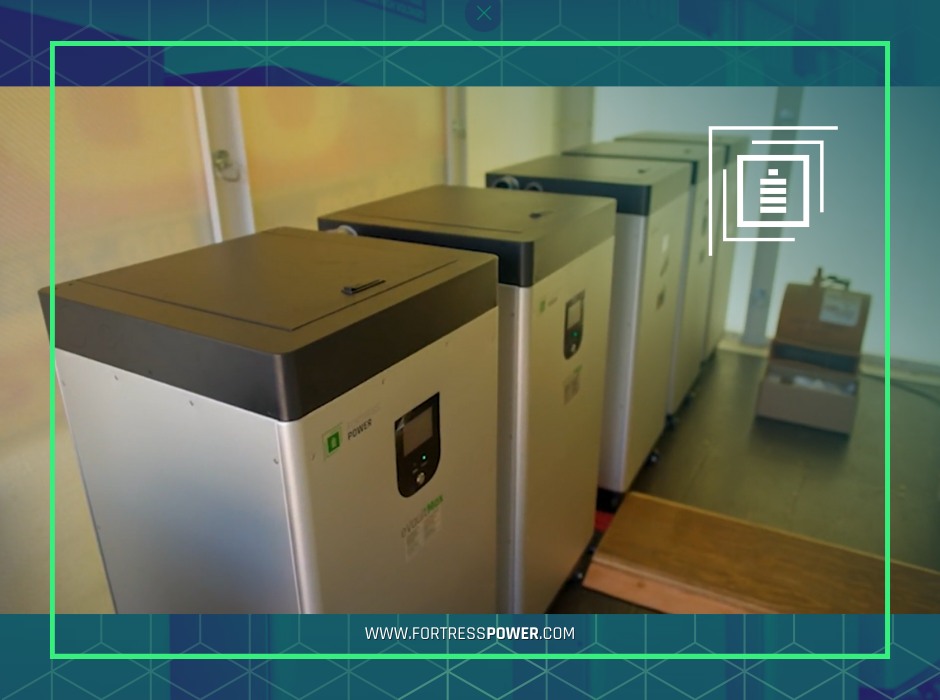 "Fortress Power provided a force-multiplying solution for the community," said Jamie Swezey, a program director for Footprint Project who's spent time onsite at Nāpili Noho. "Taking the site's large-scale refrigeration off diesel and providing a cleaner, quieter source of power is a game-changer for the community-run relief hub."
The Hawaiian islands are near and dear to Fortress Power, with two employees maintaining full-time residences in the 50th state and a blossoming solar community benefitting from Fortress products. "I'm extremely proud and grateful to work for a company that was able to help victims of the wildfires directly," said Chad Anderson, a Fortress Power sales engineer and resident of Hawaii. "It's gratifying to know our products can provide power to disaster relief."
Makai Laurin works with all varieties and sizes of systems, and he's impressed with the equipment at Nāpili Noho. "It's a total array of 27 kW, with 92 kWh of battery bank and three 12 K inverters," explained Laurin. "Believe it or not, the system's a little oversized, which is great. That's the outcome we were hoping for."
The first 24-48 hours required round-the-clock monitoring in order to determine the discharge cycle, which turned out to be around 36 kWh. Otherwise, Laurin said the installation was routine.
"We have enough power that our batteries are charged by noon, maybe 1 p.m. every day," he said. "Now there's a second refrigeration unit that we're hoping to use as a freezer."
Next up? The creation of a school; a K-12 classroom or several classrooms where displaced students can stay up on their studies.
The park, it's estimated, will be in place for a couple of years or however long it takes to get things up and running again on Maui – or as Footprint Project says, "Build Back Greener."
"Our mission of providing cleaner energy to communities in crisis is possible because of industry partners like Fortress Power," added Swezey, "Footprint Project is incredibly grateful for their generous support to the people of Lahaina."