If you have an existing PV array and want to add an energy storage system, then integrating an AC coupled solution is the perfect option. It's simple – AC coupled solutions use a common solar inverter coupled to a battery inverter/charger to manage the battery storage unit.
In AC Coupled systems, the DC power from the PV array is first converted to AC by the PV inverter and is then used to power the AC load panel. Any unused energy is directed by an inverter/charger to charge the storage unit. In grid-tied systems, when the grid goes out, the inverter/charger isolates both the essential load panel and the PV inverter from the grid via an internal transfer switch. This allows the PV array to generate power, even when the grid is down.
AC Coupled solutions are simple to setup and very powerful, but they are slightly less efficient at charging than DC coupled solutions. However, they are very effective when powering AC loads during the day and are expandable with multiple solar inverters to form micro-grids.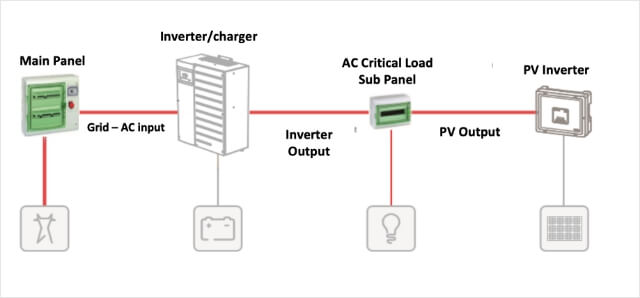 Fortress Power Energy Storage System now can AC couple to an existing PV array up to 22.8KW! Please click here to learn more.
You can also connect Fortress batteries with several other AC coupled battery-based inverter solutions available on the market, such as Schneider XW+ and XW pro Series (5.5/6.8 KW), Outback Radian GS 8048, SMA Island Series (4.4M/6.0H/8.0H). All the solutions can be AC coupled to your micro-inverters, SolarEdge inverter and many other PV grid-tied inverters. You can check out the integration guidance on our Resource Center.
When it comes to energy storage units, Fortress Power's Lithium Ferro Phosphate batteries pair perfectly with the Schneider's XW+. Fortress Power offers three systems, a 5, 10 and 18.5 KWH, which are scalable to 222KWH. This AC Coupled solution is very easy to install, affordable and uses the safest technology available with 6,000 guaranteed life cycles.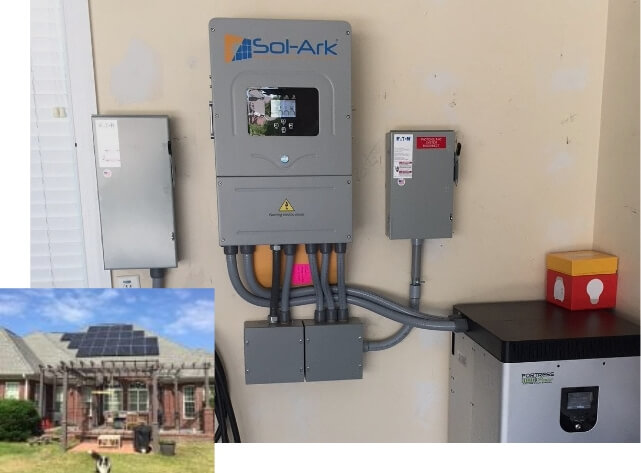 We're confident we're a good fit for your energy storage needs, but we want you to find that out for
yourself. Contact us to learn more about our innovative, personalized storage solution that grows with
you and fits seamlessly into your lifestyle.

Latest Technology
We use the safest,
environmentally friendly
LiFePo technology.

All-in-one Solution
Smart energy management system supports multiple applications.

Lowest Energy Cost
Competitively priced, easy
to install, and high trip
efficiency.

Long Lasting
10 year warranty up to
6,000 cycles
Output to the Critical Load
Output to the Grid
On Solar or Battery
(Back-up)
With Grid or Generator
Present
Pass-through
AC Output Power
8 KW
12 KW
12 KW
Storage Capacity
10/18.5 KWH per unit; scalable to 222 kWh
Surge Power
20 kW (5 Sec)
Critical Load Panel
50A @ 240V
Response Time (Grid-tie to Off-grid
4ms
Storage Capacity
10/18.5 KWH per unit; scalable to 222 kWh
PV Array Size
Up-to 13 KW in DC Coupling; Up-to 7.6 KW in AC Coupling
Compatible PV Inverters in AC coupling
AC-coupled to Enphase, AC modules, SolarEdge, SMA, Fronius and etc
PV Array in AC & DC Coupling combined
Total max 13 KW
Stack-ability

Max. 3 in 1-Ph (120/240V)
Max. 6 in 3-Ph (120/208V): 3 units per phase

Warranty
10-Year standard warranty
Mobile Applications
Marine
High energy throughput with exceptional life span (6000+ cycles) and high round-trip efficiency (>98%)
Off Grid Applications
Cabins/camping = small
High energy throughput with exceptional life span (6000+ cycles) and high round-trip efficiency (>98%)
Energy Storage Applications - two ways to connect your solar systems to batteries - AC and DC
High energy throughput with exceptional life span (6000+ cycles) and high round-trip efficiency (>98%)
Gaining a competitive advantage for your business is simple.

Request Information
Submit an authorized installer form.

Talk To Our Team
Obtain your installer package and start-up kit.

Get Certified
Become a trained partner with on-demand support and co-marketing.

Alain was knowledgeable, patient, and thorough as he helped me update the firmware for the Fortress batteries in a remote off-grid setting. I really appreciated him taking the time to make sure everything was working correctly.

Ed Witkin

Great company with a great product line. The eVault 18.5 kWh is the real deal. Serious storage capacity and quality with an accessible price tag. Quickly becoming my favorite LFP battery storage system to install.

Chris Sparadeo

Great lithium iron phosphate battery solutions for our solar projects that require batteries that cycle on a daily basis

Jacob hall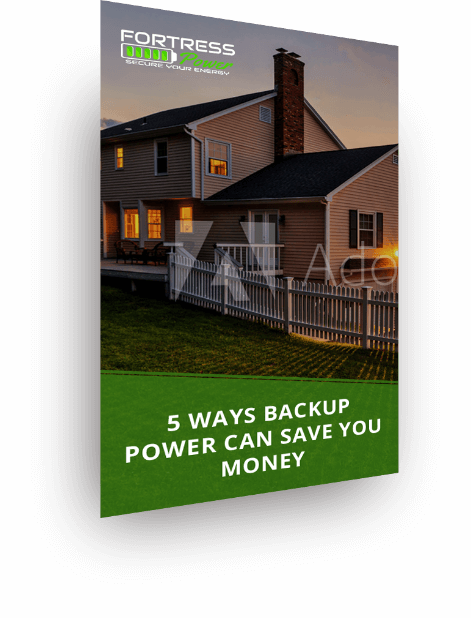 5 Ways Backup Power can Save You Money
Inside this resource, you'll discover five areas backup power keeps you in control of your energy costs and savings.