eSpire Mini Energy Storage System
Fully Integrated, Pre-configured Turnkey Solution
The eSpire Mini Energy storage system is a fully integrated, pre-configured turnkey solution for Large Residential and Light Commercial Projects (3Ph 208/480Vac @60Hz). The eSpire Mini has numerous applications such as Microgrid, backup, off-grid peak shaving, time of use, self supply, demand response and Virtual Power Plant (VPP). With AC and DC Coupling options, indoor and outdoor installation and Scalable capacity from 81-266kWh per unit, the eSpire Mini is perfect for your next project.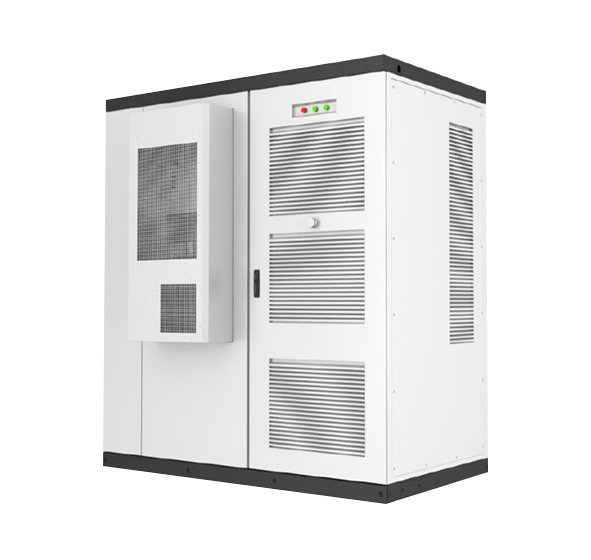 Turnkey Solution for Fast Install
Fully integrated, pre-configured package system reduces on-site installation time; includes inverter(s), battery trays, racks, BMS, Microgrid Controller, HVAC, fire suppression, islanding switch, and outdoor rated enclosure.
Built-in Microgrid Controls
Ability to integrate with solar, genset, wind, micro-turbines, utility, or other distributed energy resources.
Adaptive Intelligent EMS / Fleet Management
Intelligent software to reduce electricity cost, prepare for resiliency, and maximize return on investment. Remote operation and maintenance for multiple sites.
Safe Technology & Multi-level Protection
Tier 1 Lithium Iron Phosphate (LFP) chemistry for the highest level of safety, thermal stability, and reliability; An integrated, multi-level Battery Management System (BMS) monitors, optimizes, and balances the system.
Easy & Flexible to scale (Easy scalability)
This outdoor rated, modular solution can be expanded depending on the energy and power requirement at either 208Vac or 480Vac with a maximum of 2 units in parallel.
Excellent Local Support
Our US based technical support team can help you from project design to completion.

Battery Capacity
81/122/184 kWh
122/184/244 kWh
184/266 kWh
DC Data
Battery Chemistry
Lithium Iron Phosphate
Cell Life Cycle
80% Retention with 6,000 cycles @ 1 C 25 C
Cell Spec
3.2Vdc / 100Ah
Cell Configuration/Pack
2P16S
Pack Spec
51.2 V / 200 Ah
Pack Nominal Energy (kwH)
10.24 kWh
String Rack Configuration
1P8S
IP12S
2P9S
Rack Nominal Energy
81 kWh
122 kWh
184 kWh
Rack Nominal Voltage
409.6 Vdc
614.4 Vdc
460.8 Vdc
Voltage Range
358.4 – 467.2 Vdc
537.6 – 700.8 Vdc
403 – 525.6  Vdc
BMS Communication Interface
RS485 via Serial, Ethernet via Cat 5 or Cat 6
BMS Communication Protocol
Modbus RTU, Modbus TCP
AC Data
PCS Rated AC Power
30 kW
60 kW
90 kW
Rated Grid Voltage
480 Vac / 208 Vac
480 Vac / 208 Vac
480 Vac / (208 Vac)*
Grid Voltage Range
± 15% / ± 10%
AC Rated Current
36.1 / 83.3 Amps
72.2 / 166.5 Amps
108.3 / 250 Amps
Islanding Switch
100 kW Autotransfer Switch (ATS)  Active Switching Transfer Time: Seamless
Output THDi
≤ 3%
Grid Connected Power Factor
1 (leading) ~ 1 (lagging)
Grid Frequency Range
50 Hz / 60 Hz ±2.5%
Wiring Configuration
3 Phase 4 Wire (3P4W Configuration)
PV Input (DC Coupled Only)
PV Input Power
45 kW
90 kW
135 kW
PV Input Voltage Range
200 – 810 Vdc
General Data
Dimensions without Clearance (W x D x H)
82.7 x 47.2 x 92.5 in (2100 x 1200 x 2350 mm)
Weight of Whole System
Up to 5253.5 lbs
Enclosure Degree of Protection
NEMA 3R / IP54
Operating Temperature Range
-22 F to 131 F (-30 C to 55 C)
Relative Humidity
0 ~ 90% (No Condensing)
Max Altitude
10,000 ft (3,000 m)
Noise Level
70 dB
Cooling System
Forced Air Cooling
Communication Interface
RS485, Ethernet, HMI
Certificates
UL1973, UL9540(A), UL1741-SB, IEEE-1547, IEEE-519, (UL9540, CEC, SGIP pending)
()* External Transformer is required