Fortress
eVault 18.5kWh

Lithium Battery
Intelligent • Reliable • Powerful • User Friendly
Latest Technology
We use the safest, environmentally friendly Prismatic Lithium Iron Phosphate cells
Flexible and Scalable
Expandable from 18.5 kWh to 222 kWh for both residential and commercial buildings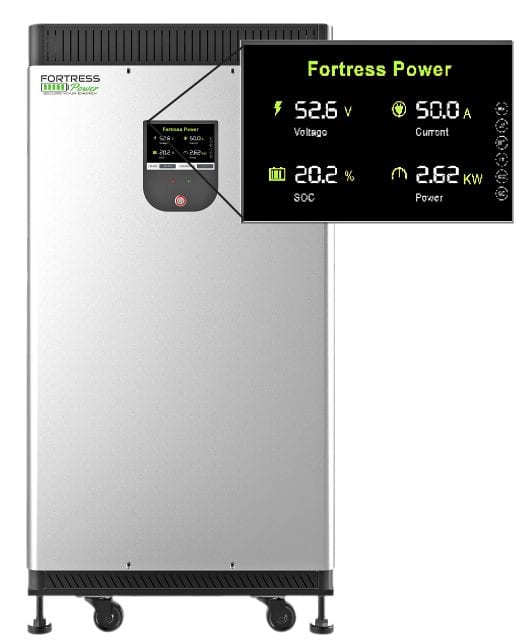 Smart and Advanced
The smart relay-based Battery Management System (BMS), works with various hybrid inverters for best performance.
Lowest Cost Per Cycle
Competitively priced and easy to install with >98% round-trip efficiency
Long Lasting
10-year warranty; up to 6,000+ cycles
Fortress Power's engineers are on a mission to provide you with the most advanced Prismatic Lithium Iron Phosphate Battery available! Not only is the new Fortress eVault 18.5 kWh battery safe, long-lasting and affordable, but is also equipped with a brand new LCD screen that displays Voltage, State of Charge (SOC), Power Output and Operating Status.
The Built-In Smart and Reliable Relay-Based Battery Management System integrates multilevel safety concepts for excellent performance:
Overcharge and Deep Discharge Protection
Voltage and Temperature Monitoring
Cell Monitoring and Balancing
Fortress batteries can be paired with most chargers and hybrid inverters available on the market.
Nominal Voltage [V]
51.2 (48)
Voltage Range [V]
45-58.4
Recommended Charge Current [A]
100
Max. Charge Current (Continuous) [A]
170
Max. Discharge Current (Continuous) [A]
180
Max. Pulse Current (for 10 sec) [A]
200
Charging Temperature [F]
32 to 113
Discharging Temperature [F]
32 to 113
Recommended Storage Temperature [F]
50 to 95
Dimension [H xW x D, inch]
38.8 x 19.2 x 21.3
Enclosure Protection Rating
IP21
Mounting options
Floor standing
Certificates
Conforms to UL 1624
Scalability
Maximum 12 in Parallel (222 kWh)
High Current Circuit Breaker
250A
Interested in becoming a Certified Installer?
Join us to bring the latest energy storages to millions of homes and businesses across the world.