At Fortress Power, we love seeing installations of our batteries in places across the US and across the globe. However, it's also exciting to see the batteries at work right in our own backyard. Fortress Power recently teamed up with Bucks County, PA solar installer, 
Moore Energy
, on a project in the beautiful borough of Doylestown.
A Commitment to Renewable Energy
The homeowners, a professional couple residing in Doylestown proper, were enthusiastic about switching to solar power to reduce their environmental impact. Protecting the valuable resources of the planet and eliminating the need to use fossil fuels was a top priority for them. They turned to 
Moore Energy
 to design a reliable grid-tied solar system so they could utilize the renewable energy of the sun to power their home.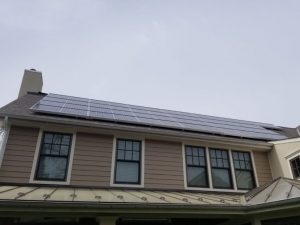 The couple wanted to reap all the benefits of the solar system, which, for them (and an increasing number of people around the world), meant adding back-up to the system. A grid-tied solar system will lose power in the event of an outage, and the homeowners wanted to ensure that they could still power the critical appliances in their home. Diesel generators have historically been an option in the event of an outage, but the couple did not want a noisy, and potentially hazardous generator, in their home. They were looking for a safer, long-lasting solution that did not involve the use of fossil fuels.
A Safer Back-Up Solution
The homeowners were thrilled when Moore Energy proposed incorporating 
Fortress Power's eVault 18.5kWh
battery into their system. Not only is the battery safe, but it uses stored energy from the sun rather than relying on fossil fuels for power. It does not require maintenance like diesel generators or lead-acid batteries, and the couple can rest easy knowing that the advanced Lithium Iron Phosphate chemistry of the battery poses no risk of fire or releasing harmful gases.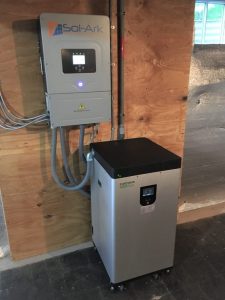 The solar power system includes a 11.05kW PV array hooked up to a 
Sol-Ark 8k inverter
 and Fortress' eVault 18.5 battery. The system is projected to produce about 13,000 kwh annually and offset over 70% of their electrical bill. In the event of a power outage, the energy storage system will provide power to the lights, refrigerators, kitchen outlets, TV, computers, and ignitor for the fireplace, and it will keep the house functioning seamlessly.