We receive questions about our products, services, and capabilities every day from residential solar installers, homeowners, and social media followers. We appreciate these questions because it shows you share our passion for clean, renewable energy and are taking the time to evaluate energy storage battery manufacturers and solutions.
Here is a list of the 10 most frequently asked questions and the answers you need to make informed energy storage decisions.
1) What battery bank sizes do you offer?
Fortress Power offers 18.5kWh (eVault) and 5.4 kWh (eFlex) battery banks.
The 18.5kWh eVault comes in one single unit, which helps to simplify installation. eVault is scalable up to 220kWh, or 12 units in parallel, for large residential and commercial projects.
The 5.4kWh eFlex is a modular solution, scalable to a max of 15 units in parallel for a total of 81kWh. The eFlex can be wall-mounted, rest on the floor, or installed in a standard computer server rack. The eFlex is designed not only for renewable energy, but also for telecommunication, RV, railway, marine, and other applications.
2) What inverters does your battery work with?
We are approved battery partners for Outback, Schneider, Sol-Ark, Magnum, SMA, and Victron. As long as the inverter's DC input is 48V, we should be able to work with it.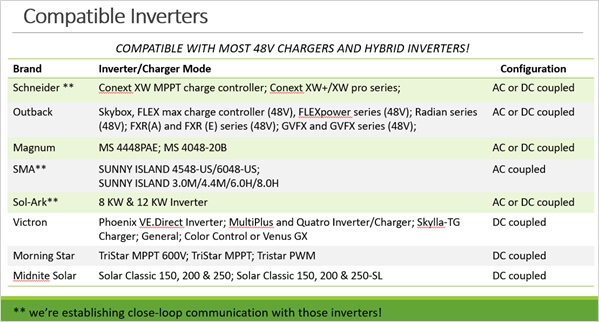 3) What battery chemistry does your battery bank use?
Our batteries use Lithium Iron Phosphate (or Lithium Ferro Phosphate or LifeO4), the safest type of lithium chemistry. Companies like Tesla and LG Chem offers Lithium-lon, or Nickel Manganese Cobalt, which have ignitable Cobalt and can cause battery fires.
Also, Fortress Power Lithium Iron Phosphate batteries require no cooling and ventilation and deliver double the cycles of Lithium-Ion batteries – 6,000 cycles at 80 percent depth of discharge (DoD). This translates to less frequent charging and longer lifespans.
4) How long does the product warranty last?
Fortress Power energy storage batteries come with a 10-year warranty.
5) Does your battery have a Battery Management System (BMS)?
Yes. Our BMS has an embedded, powerful computer built into the system that can close-loop communicate with inverters. We also build remote monitoring systems to monitor battery performance and troubleshoot problems with the unit. Our BMS can handle large charge and discharge current.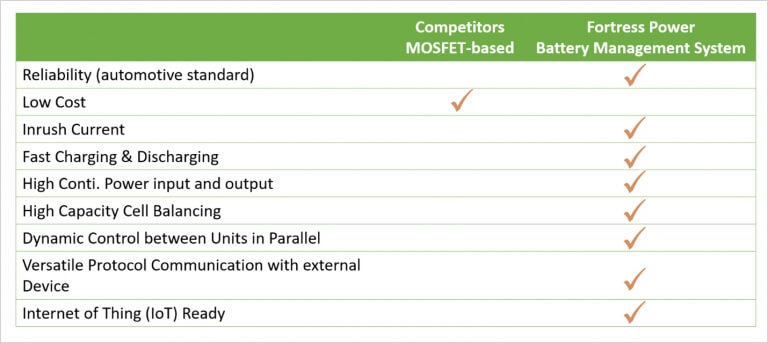 6) What is the difference between cylindrical cell and prismatic cell?
Many competitors like Tesla, Discover, and Simpliphi use cylindrical cell, which is shaped like a regular AA battery. Cylindrical cell degrades faster and is less durable. Fortress Power uses prismatic cells. Rectangular-shaped prismatic cells are more robust, more efficient, and offer better thermal stability and a longer lifespan.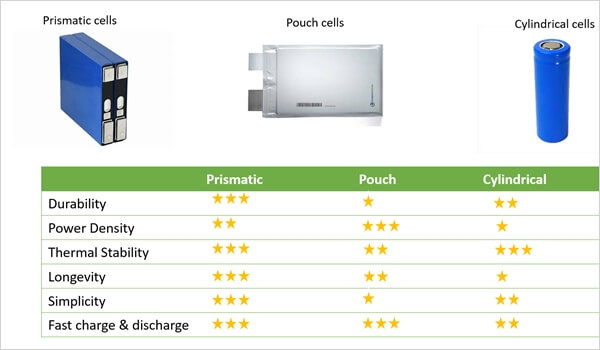 7) How do Fortress Power batteries compare with LG Chem and Tesla?
Fortress Power batteries can deliver twice the cycles of LG Chem and Tesla with a safer battery chemistry.
8) How does your Lithium battery compare with lead-acid or AGM batteries?
Designed to last 15 years, Fortress Power batteries last at least six times as long as lead-acid or AGM batteries and require only one-sixth of the space. The energy cost over the lifespan of a Fortress Power battery is just one-third of the cost of a lead-acid battery.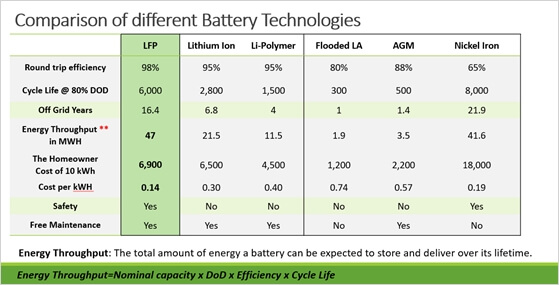 9) How long can your battery maintain backup power for an entire house?
This depends entirely on the loads in the house and the inverter being used. For example, a Fortress Power eVault is 18.5kWh, which means it can power a 3kW running load for six hours without recharging. Feel free to send your specific load information to [email protected] for additional sizing help.
10) Is solar power a good energy solution during storms?
When the grid is down, you can't use solar power – unless you store energy. Energy storage allows you to use your solar energy when the grid is down. Solar panels paired with solar inverters are designed to disconnect from the grid for the safety of those working on the grid. This mechanism allows you to use your solar panels in a safe manner by storing the energy from the panels into the battery. End result? You can keep the lights on during a power outage.
Got more questions?
Send them our way! We want you to be 100 percent confident in your solar energy storage investments! Email your questions to [email protected] and let us know what topics you would like us to cover in future blog articles.