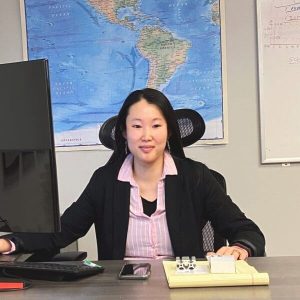 On June 2012, 27-year-old Jing Yu traveled across the Atlantic and landed in New York with two suitcases and a working visa. She was tasked with setting up U.S. operations for a German solar company.
In addition to registering the company and finding the right location to operate, Jing would have to handle everything herself – management, sales and marketing, accounting, and more – until she could start building a team.
This was no small undertaking. However, Jing was no stranger to big moves and challenges.
As a college student in China, Jing had never left her home country. Back then, traveling abroad was a major expense. However, after attending college in China for two years, curiosity and ambition led Jing and a group of students to Germany in 2004 to continue their education as part of a joint program between two universities.
While attending school in Germany, Jing discovered her passion for renewable energy, especially solar. She completed her studies while focusing on solar technology research, earning a master's degree in electrical engineering from Fachhochschule Hannover and an MBA from the University of Würzburg.
"The world is behind schedule in slowing climate change," Jing said. "I believe we're all obligated to protect the environment and I take that responsibility very seriously. My generation needs to recognize the urgency of climate change and make renewable energy a top priority."
Jing landed her first job out of college with WINAICO Solar in Germany, where she quickly advanced to general manager. The company wanted to expand to other territories, including the U.S. and asked Jing if she was up for another challenge.
"They wanted to me start up their U.S. operation," Jing said. "I remember my mother giving me a push to accept the offer. She said that if I wanted to go to America and explore new opportunities, I should do it. I'm very lucky to have parents who support me in everything I do."
Building a Renewable Energy Company from the Ground Up
Jing made the bold move to the U.S. with nothing but those two suitcases as she built the new WINAICO operation from scratch. Starting a business is difficult enough. Moving to a different part of the world to start a new business adds a whole new layer of obstacles.
For example, something as simple as opening a bank account was far more complicated without a Social Security number. Jing spoke English, but with a unique Chinese-German accent, she had developed over the course of eight years in Germany. Fortunately, she met a friendly banker who helped her overcome these hurdles and create a solid foundation for the company.
Jing and eventually settled in Jersey City, NJ, hired a salesperson, and traveled to different parts of the country to visit solar installers. She carried a silver suitcase with a small solar panel inside to show potential customers. Four months later, they landed their first customer, a solar installer in Vermont, and the business started to take off.
How a Chance Meeting Led to Fortress Power
Jing met Barry Moore, President of Moore Energy, at a trade show in Connecticut. Barry introduced Jing to his engineer and they were both very impressed by Jing's solar product. Barry's company became a client, but it wasn't long before a strategic partnership began to develop.
"Barry suggested I move to Pennsylvania," Jing said. "I realized I would be able to have more warehouse and office space at a much lower cost in Bucks County, and I loved the community. Barry and his wife actually came to Jersey City to help us make the move."
Soon after the move, Barry landed a large contract with SEPTA (Southeastern Pennsylvania Transportation Authority), which needed a solar and battery backup system to power various parts of its infrastructure. Jing had been researching different battery chemistries and identified lithium-iron-phosphate as the ideal chemistry for this application.
The initial project has delivered positive results and SEPTA has approved funds for additional battery storage initiatives. Recognizing the need for modern, reliable battery power backup solutions in both the residential and commercial markets, Fortress Power was formed in early 2017, with Jing serving as CEO.
A New Generation of Solar Leaders
Although more women are in senior leadership positions today, the solar industry, historically, has been dominated by men. That hasn't stopped Jing Yu from advancing from an undergraduate student in China, to multiple master's degrees from top universities in Germany, to the successful launch of a solar company in the U.S., to CEO of one of the world's top energy storage battery manufacturers – all by the age of 32.
Jing, now 35, has a strong technical and business background, but also attributes her accomplishments to a little bit of luck, a lot of hard work, and good people.
"My mom is my role model," Jing said. "She grew up in the countryside of China. As a teacher and small business owner, she taught me the importance of hard work and self-confidence. I'm trying to teach the same values to my daughters (ages 4 years and 4 months old)."
Jing is grateful for the people who have helped her throughout her journey, from Barry Moore to the friendly banker who helped her get settled, to the early customers who trusted Jing's expertise. She especially appreciates the Fortress Power team, which is committed to constant improvement and solving problems for customers.
Jing also hopes her story will inspire the next generation of young women to become leaders in science and renewable energy. Her advice is simple: don't be afraid of challenges.
"You have to be confident in who you are," Jing said. "Find out what you like to do and go after it. Surround yourself with good people. You may fail, but at least try. After all, you learn more from your failures than your successes. The most important thing is to stay true to yourself and believe in yourself. With the right mindset, there's nothing you can't accomplish."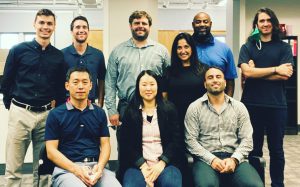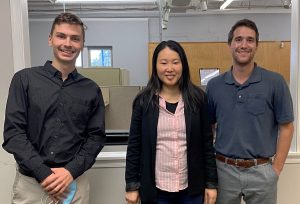 Fortress Power Team                   Jing with Alex Lepore & Andrew Parker (Sales)